Electric Deluxe Presents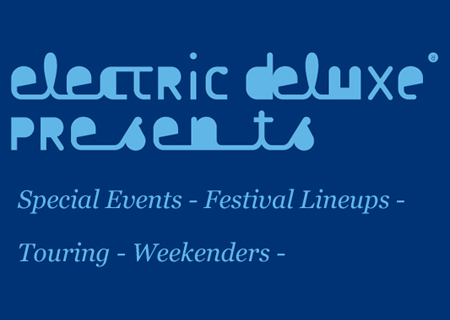 Electric Deluxe 2008 – 2014
Many years and over 50 releases later Speedy J's Electric Deluxe is as vibrant as ever. From humble beginnings the boutique label has blossomed into a first-class station for electronic music that's both functional and thought provoking. It has become the home for established artists to experiment beyond their usual parameters, a testing ground for new projects, and a platform for innovative methods in the production, consumption and packaging of modern dance music.
Electric Deluxe prides itself in fast moving technology, creativity and developing new ways of thinking. The tools component that accompanies much of the label's discography has revolutionised the digital consumption of its releases, breaking the records down into parts to be reinvented anew. As for the vinyl heads, the label's sleek design approach that has been in place since the beginning—courtesy of resident graphic artist Jan Willem van den ban—has made every release distinct and thoroughly collectable. The same care and experimentation has carried over to the label's merchandise in the form of a growing range of bespoke items that now stock the Electric Deluxe shop.
In May 2009 Electric Deluxe spawned its own bi-monthly podcast. At over 100 episodes long it has become an exceptional and timeless bank of music, selected by leaders and up-and-coming figures in the electronic music scene. Names like Richard Devine, Surgeon, The Black Dog, DVS1, Polar Inertia, Atom ™ and Vatican Shadow have all delved deep into their musical psyche to extract the weird and unexpected under the Electric Deluxe banner; delivered alongside far out introversions from our own roster cast: Terence Fixmer, Tommy Four Seven, Giorgio Gigli,Perc, and Edit Select to name a few.
Since April 2008 Electric Deluxe Presents (EDP) has been running in tangent with the label, providing a convergent point for its roster, like-minded electronic acts and—most importantly—its fans through a regular series of events. Matching EDLX's liberal aesthetic, founded on granting artists the freedom to pursue projects beyond their 'normal' parameters, EDP has consistently delivered taut and forward-thinking programs that transcend the tiers of techno and beyond.
Most importantly, EDP isn't just a normal label night but a divergent platform for roster artists and like-minded friends to present a rich, deep journey into sound. Great care is taken with line-ups to deliver a fluid performance from start to finish, with programming tailored to individual guests in order to create the optimal environment for both audience and artist.
Alongside its popular residency at Melkweg in Amsterdam, EDP has held satellite nights in Rotterdam (Maassilo, Perron), Nijmegen (Doornroosje) and Utrecht (Poema), Groningen (Paradigm) as well as hosting stages at some of the country's leading techno festivals, including Mysteryland from 2010 – 2013, Lowlands and Amsterdam Dance Event (ADE).
And that's just Holland. Today EDP is a fully functioning global venture, regularly hosting events throughout Europe (Berlin, London, Paris, Lausanne) and as far as the US (Seattle, Detroit Chicago) and South America (Medellin). It is a tribute to the firm ethos of the brand and a reflection of the international reach of the label.
Not one to start off small, EDP kicked into gear with a headline set from Richie Hawtin—and has been resetting the bar ever since. Line-ups have thoughtfully balanced top-billing artists like Luke Slater, Radio Slave and Jeff Mills with cult acts such as Marcel Dettman, Perc, Shed, DVS1, Lucy and the Sandwell District team, all the while remaining a firm platform for its own EDLX collective.
And yet EDP is far from a straight techno party. Figureheads and protagonists from across the field have habitually shared line-ups with acts as sonically diverse as Simian Mobile Disco and Modeselektor to Tikiman & Deadbeat, plus a wealth of peripheral musicians such as Nathan Fake, Matthew Dear, Mathew Jonson.
Of course the glue that holds the EDP brand together is Mr Electric Deluxe himself. Speedy J can be found manning the decks on every EDP occasion, be it solo or under the Collabs guise with longstanding cohort Chris Liebing.
Variations Of Electric Deluxe Shows/Events
Electric Deluxe Specials
Speedy J all night long — 5.1 shows with visuals — Album release tours — Special Back to back collaborations
Electric Deluxe Presents
Medium to Large Venues —Lineups programmed and booked by electric deluxe
Electric Deluxe Weekenders
Medium to Large Venues — Split bookings for the weekend on lineup/production
Electric Deluxe @ Festivals
From large mainstage bookings to programing tents and big tops — Smaller label showcases
Electric Deluxe Tours
Country Wide Tours shared lineups
As a brand ever searching to establish new audiences and affiliates, if you are an independent promoter, venue or festival interested in investing in our expanding EDP vehicle, please get in touch.
We tailor our line-ups to the local market, working together with local promoters to deliver relevant programs, while remaining true to our philosophy. EDP has the final say when curating an event but we are very much open to suggestions, especially when it comes to upcoming local talent or suitable club residents.